Raise your hand if you LOVE The Office! Um…ya, ME TOO! It is one of THE most binge-worthy shows in my book, and I don't binge a lot. (And I've seen the full series multiple times..lol) It is fantastic, no matter what. Happy, sad, bad mood, need to lay and do nothing day, The Office is perfect for any of those times and so many more. I guess I would have to say Jim and Dwight are my favorites, they're HILARIOUS, and I love the pranks. But of course there are other characters like Meredith and Stanley who are great, and of course, Angela Martin! If you didn't tear up when she and Dwight finally got married, then idk. I really don't even know. LOL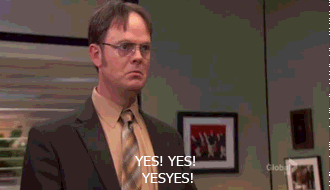 Anyway, as it turns out, Angela Martin is actually Angela Kinsey, and has a really cool baking YouTube show with her husband Joshua Snyder called Baking With Josh And Ange. The show is great, they have a lot of awesome guest stars and tasty treats! One thing fans of Angela know is that she loves donuts! (Duh, who doesn't?!) I was so excited when I saw Josh had made a Valentine's Day Donut Surprise for Angela and posted the how-to video on YouTube.
Now, the donuts that Josh made are real donuts, iced with a hole and everything. I don't have a donut baking pan yet so I had to compromise. I used a mini muffin tin and came out with nice donut hole-ish shapes. So I just called the ones I made donut holes, and they tasted great! The nutmeg adds such a nice warm, hearty flavor that they're fantastic plain!
I wanted to step it up a notch though. I wanted to do light, and fruity, with warm and sweet flavors, creamy and cold. Oh, the ideas were swirling around in my head! I looked in my fridge and saw blueberries and strawberries, and heavy whipping cream. My baking pantry had a package of vanilla pudding in it, so I grabbed that and put it on the table as well.
First, I chilled my whisks and bowl in the freezer for 20 minutes before whipping the heavy cream. You need the bowl to be cold.
After my bowl was cold enough, I took 1 Cup of heavy cream and beat it on high with 2 tsp of sugar for about 1 minute to form stiff peaks. Set the whipped cream aside while you mix your pudding according to the box directions, and cut and slice your fruit accordingly.
Here, let's make this easy with a step-by-step below!
DONUT HOLE TRIFLE:
INGREDIENTS FOR DONUT HOLES:
1 Cup AP Flour
1/2 Cup Sugar
1 tsp Baking Powder
1/2 tsp Salt
1/4 tsp Nutmeg
2 Tbsp Butter (melted)
1 egg
1/2 cup Milk
1 tsp vanilla
HOW TO MAKE DONUT HOLES!!! 
Mix your dry ingredients together. (Flour, sugar, baking powder, salt, and nutmeg)
Add the wet ingredients to your dry. (Melted butter, eggs, milk, and vanilla) Mix until just combined.
Pour into your greased mini muffin tins, and bake at 350°F for 8 minutes. Let cool on the counter. **For regular donuts like Josh and Ange's use a donut baking tin**
WHAT YOU NEED FOR THE TRIFLE:
12 Donut holes from above recipe
1/2 Cup Whipped Cream
1 Package Instant Vanilla Pudding
Fresh Strawberries and Blueberries (About 1/2 pint each)
HOW TO PUT YOUR TRIFLE TOGETHER:
Make sure your pudding has been made according to package directions, and that your heavy cream has been whipped to stiff peaks.
Break up the donut holes a bit. Layer a trifle bowl with the donut holes, pudding, then fruit. Repeat until the bowl is full, top with whipped cream. Chill the trifle in the fridge until ready to serve.
Enjoy this refreshing cold dessert in the summer heat loves! Until next time, Happy Baking!
youtube link baking w/josh and ange channel: https://www.youtube.com/channel/UCQ9qIOTYaUD5g2z9Oiyzvjw